When I was growing up collard greens were practically a staple in our home.
My dad grew collards in our backyard garden and my job was to pick, wash, cut, blanch
and freeze them for the winter.
That was not a chore that I always enjoyed as a kid, so one day I remember experimenting
by putting the greens in our washing machine to see if I could use the agitation to clean off
the dirt and insects–the same way we cleaned our clothes.
You can just imagine how pissed my mother was when she discovered what I did.
Those were my pre-vegan days when I ate whatever my mother cooked–or else.
Mom made her collard greens the old-fashioned, soul food way–seasoned with ham hocks,
fat back or neck bones and bacon drippings.
And they tasted great to me back then.
But that was then and this is now…
Nowadays, I make my greens, vegan style.
Instead of pork, I season my greens with fresh garlic, onion, dried herbs, sea salt, crushed red pepper,
scallions, coconut oil or olive oil to steam or saute my own soul-satisfying pot of greens.
Good Tasting and Good for You!
More than just a tasty dish, collard greens are a nutritional powerhouse.
They are a rich source for:
*Soluble and insoluble dietary fiber that helps control LDL cholesterol levels and offer
protection against hemorrhoids, constipation as well as colon cancer diseases.
*Phyto-nutrients with potent anti-cancer properties, such as di-indolyl-methane (DIM)
and sulforaphane that have proven benefits against prostate, breast, cervical, colon,
ovarian cancers by virtue of their cancer-cell growth inhibition and cytotoxic effects
on cancer cells.
*B-complex minerals such as niacin (vitamin B-3), pantothenic acid (vitamin B-5), pyridoxine
(vitamin B-6) and riboflavin.
*Minerals such as iron, calcium, copper, manganese, selenium and zinc.
*Vitamin-C, a powerful natural anti-oxidant that offers protection against free radical injury
and flu-like viral infections.
*Vitamin-A, (222% of RDA per 100 g) and carotenoid anti-oxidants such as lutein, carotenes,
zea-xanthin, crypto-xanthin, etc. which helps maintain healthy mucus membranes and skin health
and is also essential for healthy vision.
*Vitamin-K, 426% of recommended daily levels per 100 leaves) supports bone health and
benefits Alzheimer's disease patients by limiting neuronal damage in their brain.
*Folates which are important in DNA synthesis.
Fresh collard greens are generally available year around in food stores, but they are at their
best from November through April.
As my dad would say–"collard greens taste better after the frost hits them".
I must admit that many of my family members still prefer to eat their greens the old-fashioned way,
but when I make my greens for holiday meals, I notice that they disappear, so someone is eating
them in addition to me.
Mean Greens, Vegan Style
Ingredients
1 large bunch organic collard greens – washed and sliced into thin strips
1 onion – chopped
4 cloves garlic – sliced
5 organic scallions – chopped
1 teaspoon dried Italian herb seasoning
1 teaspoon oregano
1 teaspoon rosemary
1 teaspoon Spike or other salt-free veggie seasonion
1/2 teaspoon dried red pepper flakes
Celtic or Himalyan Sea Salt, to taste
1-2 tablespoons coconut or olive oil
1 tablespoon toasted sesame oil
Wash, roll and slice the collard greens.
Peel and chop the onions, garlic and scallions.
Saute chopped onions, scallions and garlic in coconut or olive oil
on medium heat for a few minutes.
Once they are soft, add the collard greens to the pot.
Drizzle a little toasted sesame oil over the greens.
Sprinkle seasonings onto the greens.
Turn up the heat and toss the greens rapidly to wilt the leaves.
Turn the heat down to simmer and allow the greens to cook in their
own juices.
Add a small amount of water, if necessary.
After a few minutes, check the greens and stir them again.
Cover and allow to simmer until they are done.
Try not to overcook them.
Taste test and adjust seasoning as needed.
I like to sprinkle more fresh chopped scallions into the pot of greens
once they are done and toss them with the cooked greens.
I also like to sprinkle a little more dried red pepper flakes on the
greens once they are done.
Serve up and enjoy with the rest of your meal.
I usually eat my greens with brown rice or quinoa, beans, steamed carrots,
winter squash or sweet potatoes.
Sometimes I cube some baked tofu or seasoned tempeh and add it to my
collard greens.
Now that is a delicious treat!
How do you prepare and season your collard greens?
Share your suggestions, thoughts and comments with us.
 "Featured on Tuesdays with a Twist"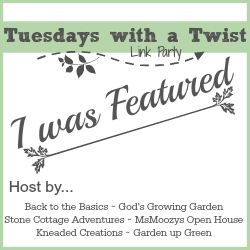 "Shared on Heart and Soul Blog Hop"
"Shared on Turn it Up Tuesday"
"Shared on Tuesdays with a Twist"
"Shared on Inspire Me Tuesday"
"Shared on Mostly Homemade Mondays"
"Shared on Pin Worthy Wednesday"
"Shared at the Virtual Vegan Potluck"
"Shared on Real Food Wednesdays"
"Shared on Real Food Wednesdays"
"Shared at Healthy Vegan Fridays"
"Shared at Natural Family Friday"